In this article, we explain the details behind a restaurant server job description, including the responsibilities, skills and qualifications needed.
While you're at it, explore our articles on restaurant server salary and common restaurant server interview questions.
Restaurant Server Job Overview
A restaurant server is in charge of delivering food and drinks to dine-in customers who are sitting in a specific seating section within the restaurant.
Restaurant servers are responsible for taking each customer's order, communicating the order to the kitchen, serving the menu items and responding to any additional requests that customers may have while dining in the restaurant.
Responsibilities
The responsibilities of a restaurant server include:
Cleaning and setting restaurant tables
Welcoming customers in a friendly manner
Answering questions about the restaurant's menu, explaining daily specials and recommending dishes
Taking food and beverage orders
Taking note of any dietary restrictions, allergies or food preferences and communicating this information to the kitchen staff
Delivering food to the table, after making sure the order is correct and well presented
Checking in with customers at regular time intervals to refill drinks, check on meals and fill additional requests
Responding promptly to any issue and escalating it to the restaurant management, if necessary
Stocking serving stations with water and ice
Issuing bills and handling payments
Rearranging restaurant tables for larger groups of people or special events when needed, such as birthdays, weddings or anniversaries
Assisting with basic food preparation or cleaning, when needed
Adhering to customer service guidelines and health rules and regulations
A restaurant server typically reports to a head server or a restaurant manager, if there are customer complaints, payment issues or refund requests.
However, servers are largely relied on to handle tables and customers on their own and work without close supervision throughout their shift.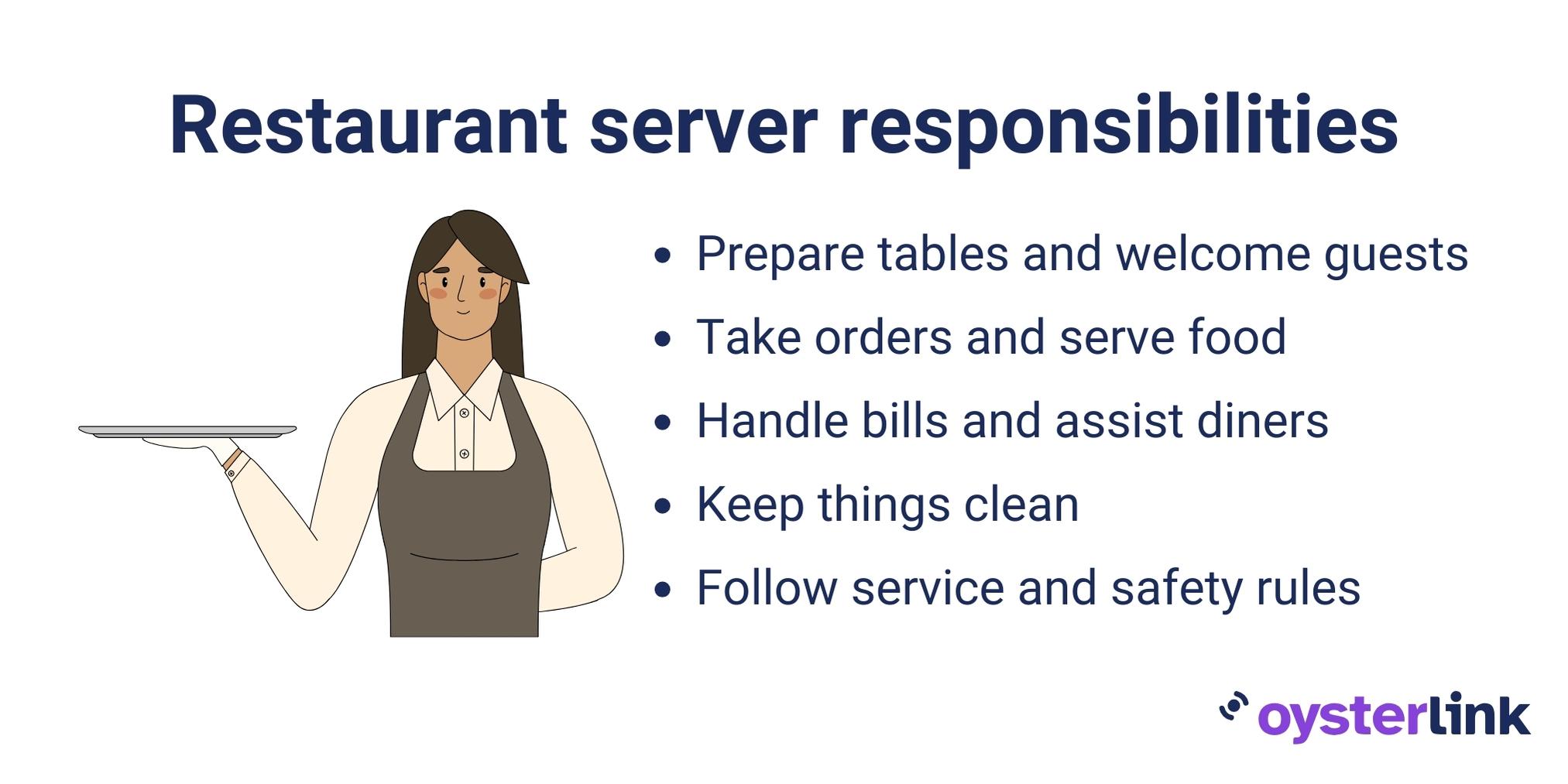 Restaurant Server Training & Education
In most cases, restaurants do not have specific education requirements for the position.
For some high-end establishments, however, a high school diploma or an associate degree in culinary studies, along with a food service certificate, may be required.
In most cases, a server who is just starting a new position at a restaurant will be asked to shadow or follow a server who has been with the company for an extended period, for hands-on training. This training could last several days to several weeks, depending on the hiring policy.
Related: How To Write a Job Description
Skills & Qualifications Needed to Become a Restaurant Server
The skills and qualifications needed to apply for a restaurant service position vary according to the type of restaurant.
However, skills and qualifications needed typically include:
Prior experience in a customer service environment, such as retail or hospitality
Knowledge of different types of cuisine and beverages
Knowledge of food service safety regulations
Knowledge of or experience with cashier tasks
Excellent interpersonal and communication skills
Friendly attitude and patience
Ability to work weekends and holidays
Physical strength to stand for long hours and lift heavy weights
Legal age to serve alcohol
Ability to work without supervision
Ability to work under pressure
Ability to work in a team
Punctuality and reliability
Strong work ethic
Related Restaurant Server Career Advice
Related: How To Write a Job Description
Categories: