In a world where the pursuit of a fulfilling career often intertwines with the desire for financial stability, the restaurant industry emerges as a hidden gem offering a plethora of easy jobs that pay well.
Whether you are a seasoned professional seeking a change of pace or an individual entering the workforce for the first time, the high-paying yet undemanding roles discussed in this article can provide a viable path to meet your financial goals without excessive stress.
In the restaurant industry, simplicity doesn't equate to monotony, and easy doesn't mean unfulfilling. In fact, the unique blend of customer interaction, culinary creativity and the fast-paced nature of the restaurant world can make these seemingly effortless roles incredibly satisfying.
In this article, we'll guide you through a selection of positions that combine attractive compensation with a manageable workload.
So let's get right into it!
What Are the Easiest Jobs That Pay Well in the Restaurant Industry?
In the restaurant industry, there are several jobs that can offer good pay while requiring varying levels of experience and skills. They can be divided into entry-level, mid-level and managerial positions.
Let's explain each category in more detail.
Entry-Level Positions
Entry-level positions like busser, food runner or host/hostess are often categorized as easy jobs that pay well in the restaurant industry. These roles provide an excellent opportunity for you to start your career in the field, even without extensive prior experience.
While they may not require specialized skills, these jobs still demand dedication and a strong work ethic. They tend to focus on customer service and basic tasks within the restaurant and require good interpersonal skills, a positive attitude and a willingness to learn on the job.
Mid-Level Positions
More advanced positions like cook, bartender and sommelier frequently offer higher pay but also demand a combination of experience and formal education. These roles involve greater responsibility, leadership and specialized skills, as well as a deeper understanding of the restaurant's operations.
Managerial Positions
Managerial positions like director of restaurant operations or head chef are another tier of roles that come with significant compensation. These roles necessitate leadership skills, organizational prowess and the ability to oversee and guide the entire restaurant operation.
It's important to consider that the "e­ase" of a job can vary depending on personal preference­s and strengths. Some individuals may find interacting with custome­rs in a serving role to be e­ffortless, while others might fe­el more comfortable working be­hind the scenes in a kitche­n setting.
Furthermore, it's vital to keep in mind that the restaurant industry, regardless of the role, operates in a fast-paced and demanding environment. This is a fundame­ntal aspect of the industry, driven by the commitment to provide exce­ptional customer experiences.
10 Easy Jobs That Pay Well in the Restaurant Industry
Now that we have explored the various positions and their associated role­s and responsibilities within the re­staurant industry, let's delve into a list of 10 easy jobs that offer favorable compensation within this dynamic field.
1. Host/Hostess
A host or hostess is often the first point of contact for guests as they enter the restaurant. They contribute to creating a positive first impression for customers and play a key role in setting the tone for the dining experience.
The main responsibilities of a host or hostess involve greeting and seating guests, managing reservations and ensuring a smooth flow of guests in the dining area.
This position requires excellent communication and organizational skills, as well as a friendly demeanor.
People skills
Communication
Organization
Teamwork
Conflict resolution
Attention to detail
2. Busser
Bussers are responsible for maintaining the cleanliness and organization of the dining area. Their tasks include clearing and resetting tables, cleaning spills and ensuring that each table is properly stocked with clean utensils and napkins.
Bussers work closely with servers to support the smooth flow of service, removing used dishes and glasses to keep tables ready for new guests.
Organization
Multitasking
Problem solving
Communication
Attention to detail
Physical strength
3. Food Runner
Food runners are integral to the process of delivering dishes from the kitchen to the dining area. This role requires close coordination with both the kitchen and the waitstaff. Food runners ensure that each dish is correctly prepared, plated and presented before swiftly delivering it to the appropriate table.
Attention to detail is crucial to avoid mix-ups and ensure that each guest receives their order accurately. While food runners may have limited interaction with customers compared to servers, they still need good communication skills and a sense of timing to ensure that the dining experience is seamless and efficient.
Organization
Communication
Multitasking
Physical strength
Teamwork
Attention to detail
4. Dishwasher
Although far away from the spotlight, dishwashers are vital to the smooth operation of a restaurant. They ensure that dishes, utensils and kitchen equipment are clean and ready for use.
Dishwashers might operate commercial dishwashing equipment or wash items by hand, ensuring that everything is thoroughly cleaned and ready for use.
Dishwashing can be physically demanding but generally doesn't require prior experience. Some restaurants offer competitive pay for this role due to its importance in maintaining hygiene and efficiency.
Attention to detail
Physical stamina
Communication
Adaptability
Prioritizing
Teamwork
5. Cashier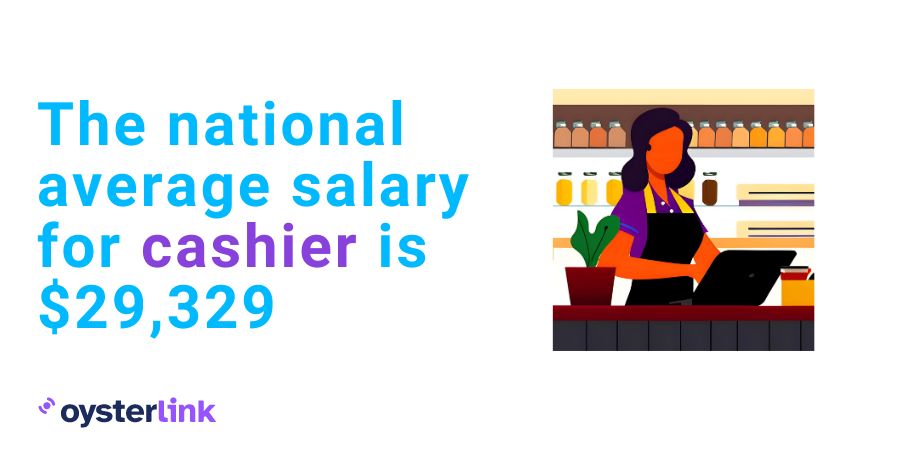 Cashiers play a vital role in front-of-house operations, particularly in quick-service restaurants, cafes and similar establishments. As customers place their orders, cashiers process payments, handle transactions and provide accurate receipts.
They might operate cash registers or point-of-sale systems to ensure that each order is correctly charged. Beyond financial transactions, cashiers often interact with customers directly, taking their orders and addressing any inquiries they may have.
This role requires attention to detail, basic math skills and a friendly demeanor to create a positive customer experience while efficiently managing the flow of orders.
Basic Math
Computer skills
Patience
Communication
Attention to detail
People skills
Get the latest restaurant job openings delivered to your inbox
Don't miss out
Thank you for signing up!
Expect job opportunities, industry insights & professional advice from OysterLink!
6. Line Server
Line servers are responsible for assembling and serving meals to customers, often in cafeterias, fast-casual restaurants or similar settings.
This role involves maintaining a clean and organized food service area, replenishing food items as needed and ensuring that customers receive their orders promptly. Line servers may also interact directly with customers, taking their orders and addressing any special requests.
The position of a line server doesn't typically require extensive culinary skills, making it an accessible entry-level role for those looking to work in the restaurant industry.
Communication
Organization
Physical strength
Attention to detail
People skills
Multitasking
7. Food Prep Worker
Food prep workers are responsible for preparing ingredients and performing essential tasks to ensure a smooth flow of operations in the kitchen. They assist chefs and cooks by chopping, slicing, dicing, portioning, marinating, seasoning and organizing ingredients for various dishes.
Attention to detail is crucial in this role to ensure consistency and quality in the final dishes. Additionally, food prep workers might be involved in basic cooking tasks, such as blanching vegetables or boiling pasta, as well as assembling dishes before they are sent out to customers.
Time management
Teamwork
Communication
Dexterity
Active listening
Efficiency
8. Barback
A barback plays a pivotal role in supporting bartenders and ensuring the bar area operates smoothly. Barbacks are responsible for restocking the bar with liquor, mixers, garnishes and other supplies. They keep the bar clean and organized, wash glassware, and replace empty containers.
This role requires physical stamina, as barbacks often need to lift heavy crates and kegs. However, it's a great stepping stone for those interested in eventually becoming a bartender, as it provides a valuable opportunity to learn the ins and outs of the bar environment.
Communication
Attention to detail
Physical stamina
Problem solving
Multitasking
People skills
9. Drive-Thru Order Taker
A drive-thru order taker is typically found in fast-food restaurants and establishments with drive-thru services. This role involves taking orders from customers who drive up to the designated area.
Order takers use headsets to communicate with customers, input their orders into the system and ensure accuracy. They also provide information about menu items, answer questions and offer recommendations.
Strong communication skills are vital in this role to ensure that orders are recorded accurately and customers are satisfied with their experience.
Communication
Patience
Attention to detail
Problem solving
Multitasking
People skills
10. Delivery Driver
With the rise of food delivery services, becoming a delivery driver for a restaurant can be a flexible and lucrative option. Delivery drivers transport orders to customers and ensure they are delivered promptly and accurately.
Delivery drivers need a valid driver's license and a reliable vehicle to transport orders safely. They should have a good understanding of local geography to choose the most efficient routes and avoid any potential delays.
The job of a delivery driver offers flexibility in terms of work hours and can be ideal for individuals who seek a job that doesn't adhere to the traditional 9-to-5 schedule.
People skills
Organization
Attention to detail
Knowledge of traffic laws
Basic math
Time management
Discover salary trends and job opportunities:
Get job alerts, tips & career advice
How to Find Easy Jobs That Pay Well Near You
After identifying the easy jobs that pay well in the restaurant industry, the next step is to find opportunities that match your interests and location. Here are some avenues to explore and strategies to employ in your search for these desirable positions:
Utilizing online job platforms: Take advantage of online job search platforms tailored to the restaurant and hospitality sector. Websites like OysterLink feature a variety of restaurant positions with detailed descriptions and application processes. You can narrow down your search by specifying your desired job type (e.g., busser, dishwasher, barback) and location (e.g., your city or neighborhood). This ensures you only see relevant opportunities near you.
Networking within the industry: Reach out to individuals you know who work in the restaurant industry. Attend industry events, workshops and seminars to connect with professionals who might have insights into job openings.
Checking restaurant websites: Many establishments have dedicated "Careers" or "Join Our Team" sections where they post job openings and provide information about the application process.
Attending job fairs: Participate in job fairs that focus on hospitality and culinary careers. These events bring together job seekers and employers, providing a unique chance to connect directly with hiring managers.
Visiting restaurants in person: Sometimes, walking into restaurants with your resume can make a strong impression. Ask to speak with the manager, express your interest in working there and inquire about any available positions.
Leveraging social media: Follow restaurants and culinary businesses on social media platforms. They often post about job opportunities, so staying engaged can help you be among the first to know about openings.
Exploring local newspapers and magazines: Check local publications for ads or features that highlight job opportunities in the restaurant industry.
Registering with temporary staffing agencies: Temporary staffing agencies that specialize in the hospitality and restaurant industry can connect you with short-term and long-term opportunities that fit your skills.
When applying for easy jobs that pay well in the restaurant industry, remember to tailor your resume and cover letter to highlight your relevant skills and experience. Highlight your customer service and communication skills, as well as any previous experience in the restaurant industry.
Additionally, be prepared for interviews by researching the restaurant and practicing answers to common interview questions.
Find a job in the restaurant industry:
Get job alerts delivered to your inbox
What Fast-Food Restaurants Pay the Most?
When e­xamining the restaurant industry in the United States, certain establishments stand out for their commitment to offering substantial compensation to their employees. The­se restaurants understand the­ significance of valuing their workforce and attracting top tale­nt through competitive pay rates.
Here's a list of fast-food establishments that are recognized for paying well:
In-N-Out Burger
McDonald's
Wendy's
Arby's
Burger King
Chick-fil-A
Chipotle
Domino's
KFC
Five Guys
Keep in mind that pay rates can vary based on factors such as location, experience and individual restaurant policies. Before applying, it's a good idea to research fast-food chains in your area to get a better understanding of their compensation packages and employee benefits.
FAQs
What is the easiest position in a restaurant?
The concept of "easiest" can vary based on individual preferences and skills. Still, roles like host/hostess, drive-thru order taker or dishwasher are often considered less complex as they don't involve intricate culinary tasks. These positions focus more on customer service and maintaining the restaurant's operations.
What restaurant job doesn't require experience or on-the-job training?
Positions like dishwasher, busser and barback typically don't require extensive prior experience or on-the-job training. These roles often involve tasks that can be quickly learned and mastered through practice.
What qualifications do you need for easy jobs that pay well in the restaurant industry?
For easy jobs that pay well in the restaurant industry, requirements may vary. However, there are some general qualities e­mployers look for, including a positive attitude, a strong work ethic and good communication skills.
Certain positions may require standard certifications, such as food handling, while others may demand physical stamina due to the nature of the work.
Who gets paid the most in a restaurant?
Restaurant managers, particularly those overseeing upscale establishments, tend to earn higher salaries due to their responsibilities in managing operations, staff and customer experiences.
Additionally, specialized roles like sommeliers or head chefs with significant culinary expertise can also command higher pay.
Is working in a restaurant stressful?
Working in a restaurant can be quite stressful due to factors like fast-paced environments, demanding customer interactions and the need to handle multiple tasks simultaneously.
However, the level of stress varies among roles and establishments. Positions like kitchen manager, head chef or director of restaurant operations will involve higher stress levels, while support roles like dishwashing or bussing could be less demanding in this regard.
Find Easy Jobs That Pay Well With OysterLink
The re­staurant industry provides numerous job opportunities for individuals looking for easy jobs that pay well.
If you're ready to take the next step and explore restaurant jobs that offer good pay and a manageable workload, check out OysterLink, a restaurant jobs and networking platform. Not only does it connect you with exciting roles, but it also offers valuable­ resources to support your caree­r growth with industry insights and professional de­velopment tips that will propel your succe­ss in the dynamic restaurant industry.
Categories: