Line Cook vs. Prep Cook: Roles, Salaries & More
Over the next 10 years, the overall employment of cooks in the United States (U.S.) is expected to increase by 16%, according to a job outlook assessment by the U.S. Bureau of Labor Statistics.
With 480,600 new openings each year, there is ample opportunity to pursue career opportunities in the cooking industry, from family-owned establishments to global chains, hotel restaurants and beyond.
As the need for the role increases, we're focusing on two specific areas: a line cook vs. a prep cook.
We'll explain the responsibilities of each position along with the requirements and skills needed to secure each role.
Plus, we'll compare the salaries of cooks in New York, Chicago, Miami and Los Angeles against the national average, so you know what to expect when looking for a job in these high-demand areas.
What Is a Line Cook?
A line cook is a kitchen employee who operates a particular station where food undergoes preparation and assembly, before being served to restaurant guests.
Depending on the type of restaurant and the food offered, individual line stations can include various cooking processes, such as:
Frying
Grilling
Roasting
Preparing soups, pasta and hot appetizers
Though typically in charge of one station, line cooks are cross-trained to step in for colleagues when needed, ensuring an uninterrupted line of food preparation.
The responsibilities of a line cook typically include:
Frying, roasting, sautéing or preparing sauces, according to the station assigned and the restaurant recipes
Completing station tasks on time and passing dishes to the next line cook until the dish is ready for serving
Maintaining clean cooking surfaces at the station
Ensuring that food is stored and handled in accordance with food sanitation laws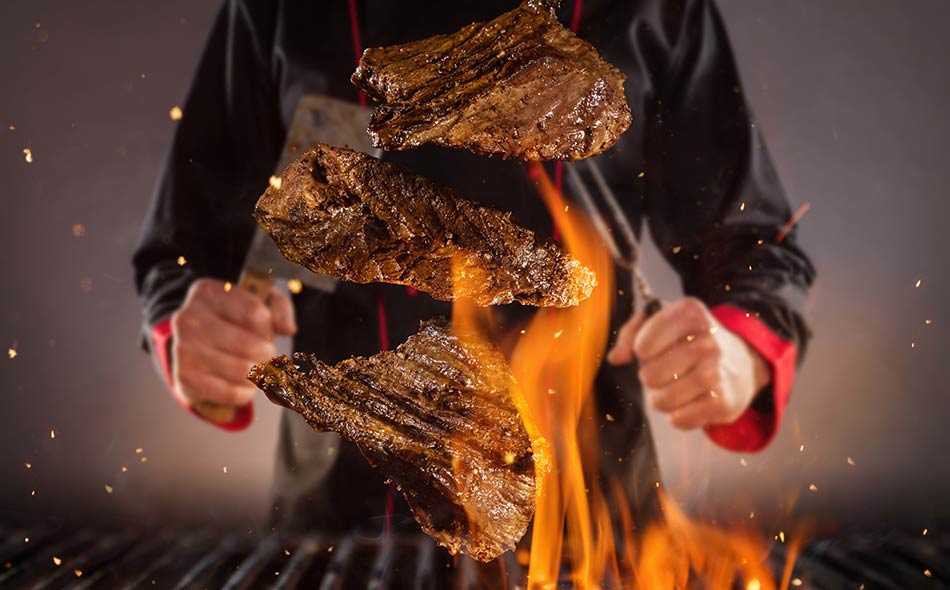 What Is a Prep Cook?
A prep cook is a kitchen employee who typically prepares the ingredients needed to cook the dishes at a restaurant.
The activities handled by a prep cook include:
Washing ingredients, such as fruit, vegetables or spices
Chopping
Measuring
Mixing ingredients
The responsibilities of a prep cook include:
Managing kitchen inventory
Ensuring that all food products are accessible, properly labeled and appropriately stored
Preparing cooking components and measuring spices and seasonings according to the chef's preparation lists
Distributing dishes to waitstaff so they can serve customers
Washing plates before putting them in the dishwasher
Keeping a sanitary, well-organized and clean work environment
Line Cook vs. Prep Cook: What's the Difference?
So how does a line cook differ from a prep cook? Here are the main differences between the two, broken down into five key areas:
1. Seniority
A line cook holds a more senior position than a prep cook. Typically, a line cook fixes the restaurant dishes using the ingredients that the prep cook has already prepared. In addition, a line cook may create recipe ideas for new menu items.
2. Experience
A line cook typically has more training and experience than a prep cook.
In addition to the specialized knowledge of their own station, a line cook can be trained in different stations to assist colleagues when needed.
While prior experience isn't always needed to become a prep cook, it is preferred and typically a requirement to become a line cook.
3. Role Sequence
Another key difference between a line cook and a prep cook is the sequence in which they perform their responsibilities in the kitchen.
A line cook performs their main cooking tasks while the restaurant is open and operational, while a prep cook may arrive before the restaurant opens to prepare ingredients for each dish ahead of time.
4. Career Progression
Often, a prep cook receives training to become a line cook. If you start out as a prep cook, a line cook can be seen as a potential career advancement opportunity.
Both line cooks and prep cooks can pursue further professional development to become sous chefs or head chefs, provided they have the necessary qualifications and experience.
5. Salary
As they have more experience and seniority, line cooks receive a higher salary than prep cooks.
According to public estimates, the average base salary of a line cook in the U.S. is between $34,000 and $38,000, while the average salary for a prep cook in the U.S. is between $32,000 and $36,000.
The salary ranges for both positions vary depending on the geographic region, employer and level of experience. In high-demand cities, for example, cooks may have the opportunity to make a higher salary.
In New York City, a line cook makes between $39,000 and $43,000 annually on average, while a prep cook makes between $34,000 and $38,000.
In Miami, the salary of a line cook is between $36,000 and $40,000, while the salary of a prep cook is between $31,000 and $35,000.
In Chicago, a line cook's average base salary is between $35,000 and $39,000, in contrast to a salary between $34,000 and $38,000 for a prep cook.
In Los Angeles, a line cook's salary is between $38,000 and $43,000, while the average salary for a prep cook is between $32,000 and $36,000.
Discover salary trends and job opportunities
How to Become a Line Cook
If you want to become a line cook, you will typically need:
A high school diploma
A certificate from a culinary school, vocational school or college with completed courses in international cuisine, safe handling of utensils or cooking techniques
A handler safety certificate is required in some states—contact your state's food and licensing agency to find out if you need a certificate and how to apply for one
Other skills that will help you apply for the job of a line cook include:
Physical strength—you may need to lift heavy objects and stand for long hours
Quality control to inspect every detail before food is served
Time management skills to perform your role and sync with the rest of the kitchen
Communication skills to understand and convey clear and accurate instructions within the kitchen
Once you have the education and skills you need to become a line cook, how can you excel at the position? Tips to become an efficient line cook include:
Know your menu
Practice the cooking methods and techniques that are specific to your workstation
Show up early to organize your station's equipment and tools before the kitchen gets busy
Arrange your ticket orders in sequence of arrival to ensure a smooth and timely rhythm
Pay attention to detail—such as undercooked fries, burn marks or sauce smudges on plates—to serve the best-quality food with top-notch presentation
Check for special requests from customers, such as "sauce on the side" or "no cheese"
Check to make sure orders are taken from the service window on time—reheat or remake dishes when needed
Communicate with your front-of-house colleagues to get constructive feedback on the dishes served and take steps to improve
How to Become a Prep Cook
If you want to become a prep cook, you may not be required to have an advanced level of education, although you may need a food handler safety certification.
However, landing a job as a prep cook does require certain skills, such as understanding the fundamentals of cooking, the ability to follow instructions and paying close attention to detail.
Other skills that can benefit your application as a prep cook include:
Ability to work in a fast-paced environment
Organizational skills
Physical stamina
To excel at a position as a prep cook, you need to:
Create prep lists that will help you work quickly and efficiently, without forgetting any ingredient you need
Prepare your tools, such as knives or kitchen shears, ahead of time to make sure your station is set up properly
Reduce cleaning time by using parchment paper
Use salt when chopping herbs or garlic to keep the food in place on your cutting board
Memorize the fruit and vegetables that are easier to peel after they are cooked—for example, peaches, blanched pearl onions or beets
Place a trash can close to your cutting board for easy cleanup
For more information on the employee hiring process and post-interview follow-up call etiquette to prepare for an upcoming interview, explore our blogs on these topics.
Or, explore the best-paying jobs in restaurants to find more info on leading restaurant roles across the country.
Subscribe to OysterLink for Job Alerts & Hospitality Insights
Considering a career in hospitality as a line cook or a prep cook?
OysterLink helps connect employees with employers, form long-lasting professional relationships and stimulate both career and business growth.
Sign up for early access to industry insights and open positions in the restaurant industry across the U.S.