Hosts and hostesses ensure guests and patrons feel comfortable and satisfied from the moment they step into your establishment until they say their goodbyes.  This standard host/hostess job description will cover the day-to-day responsibilities of a host or hostess and the required skills and qualifications, including some insights on common interview questions and salaries. Employers should find it easy to customize the information for their job ads, while applicants can use this information as a reference for their resumes, CVs, cover letters and interview preparations.
Host/Hostess Job Description
Hosts and hostesses are front-of-house staff members who engage with guests throughout their entire stay in the establishment as needed. They should be comfortable standing for long periods while managing a busy shift. Feel free to edit any section of our job description of a host/hostess to create a job listing that perfectly meets your business requirements.
As a side note: Speaking of "standing," employers may wish to reevaluate their definition of "good service" as it relates to their unique business and atmosphere. For example, this GoFundMe by a chef and sommelier interestingly tells its customers, "Don't be alarmed to see our staff sitting down," as it describes the dynamics of the restaurant they want to set up.
Host/Hostess Job Responsibilities
A host/hostess job includes the following tasks:
Greeting and welcoming guests
Keeping track of reservations and ensuring availability
Monitoring waiting lists and providing accurate wait times
Presenting menus and daily specials
Coordinating waitstaff, kitchen staff and managers as needed
Seating guests and ascertaining their needs
Managing the flow of guests to ensure a pleasant, cozy atmosphere
Resolving complaints and other issues
Wishing customers well as they leave
A host or hostess is essential in setting the tone for patrons' overall experience. And if it's their first visit to the establishment, you could make or break the chances of the business scoring happy, returning customers.
Host/Hostess Job Training & Education
While no specific education is required to become a host or hostess, some basic skills and experience would be helpful. Given the nature of the job, establishments typically look for people who areoutgoing, friendly and great communicators.   Before beginning your host/hostess job though, make sure you understand the establishment's culture, policies and procedures, as well as the menu, reservation system, seating plan and customer service standards.   Although some experience in the hospitality field would be a huge plus, a host/hostess job can also serve as an entry-level role that will help you build your skillset and network in the industry.
Skills & Qualifications Needed for a Host/Hostess Job
As a host or hostess, you need to make sure everyone's accounted for. Having the following skills and qualifications can help you do just that:
Good understanding of restaurant and dining etiquette
Verbal communication
Conflict resolution and problem-solving skills
High energy level
Organizational skills and thoroughness
Professionalism and composure
Extensive knowledge of the menu
Restaurant experience (is a plus)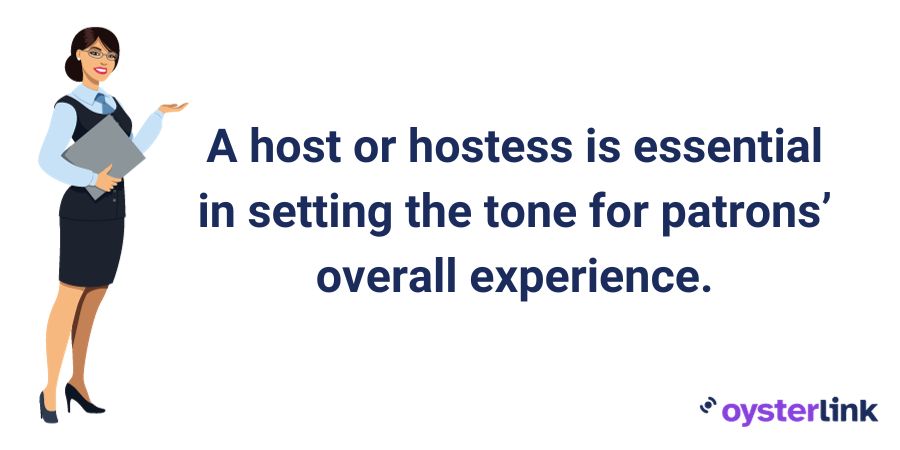 Host/hostess jobs don't just exist in restaurants. They can also work in other industries. Some other common places they may find employment include:
Hotels: Many hotels have on-site restaurants where hosts/hostesses are hired to help manage guest reservations, seating, etc.
Event spaces: Depending on the event's venue and scale, hosts/hostesses can be hired to help manage participants and assist in organization.
Cruise ships: Similar to hotels, cruise ships can also have multiple dining areas that require customer assistance.
Theme parks and resorts: Even parks like Disneyland offer host/hostess jobs to help with accommodating guests.
Related Hostess Career Advice
Related: How To Write a Job Description
Categories: